$5 OFF Any Purchase of $25 or More Kanpai Sushi Folsom

01/05/2017 05:42PM ● Published by Mark Mendelsohn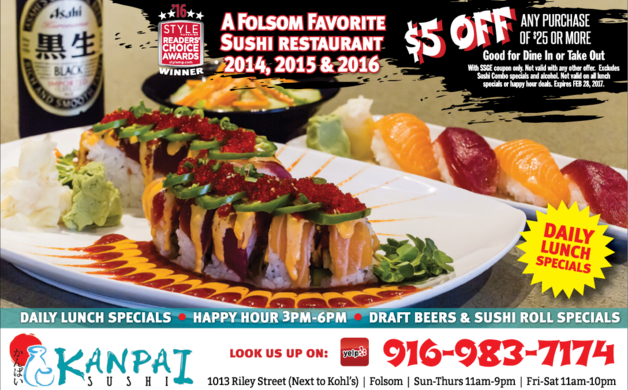 Kanpai Sushi in Folsom is perfect for kids and families. In the casual atmosphere at Kanpai Sushi you will be pleased with the atmosphere but impressed with the fresh fish that is served daily and with the excellent rolls. 
Kanpai also offers a take-out option for those who just want to relax at home.

If parking is a concern, you'll be happy to hear that there are many convenient options in the area. Store your bike safely at one of the main bike racks near Kanpai Sushi.
You can save your money and eat out at Kanpai Sushi. It's all cheaper than $15 here, folks. Discover the delicate, delicious art of sushi when you visit Kanpai Sushi.
Dining
,
Today