10% OFF Carpet Cleaning and Tile Cleaning from Carter's Carpet El Dorado Hills, CA

01/05/2017 12:08PM ● Published by Mark Mendelsohn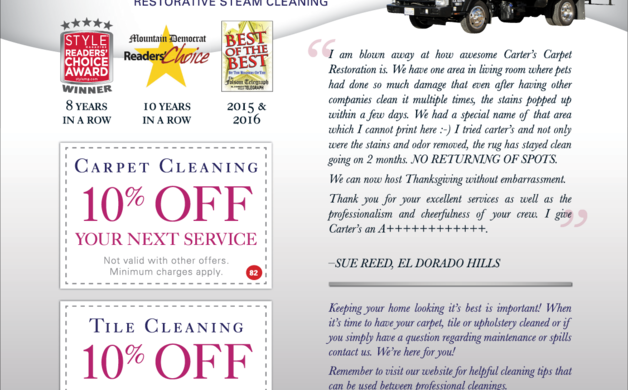 If you're looking for the best carpet cleaning company around, you've found it!  Carter's Carpet Restoration is a local, family run business that takes pride in their cleaning and their customer service.  Carter's offers a restorative carpet cleaning, guaranteed to get your carpet cleaner than any other process.  Did you know Carter's is consistently voted best carpet cleaner, year after year, by the Style Magazines, Folsom Telegraph, Village Life and The Mountain Democrat?  Not all carpet cleaners are the same, there's a difference in cleaning equipment, cleaning products, and employees.  With Carter's you're guaranteed the best of everything!

Carter's Carpet Restoration - El Dorado Hills, CA
With Carter's you always get the deepest green carpet cleaning with the fastest dry time available!
Home
,
Today
Carpet Cleaning