10% OFF ENTIRE BILL Piggyback Ribs Folsom

11/01/2016 11:52AM ● Published by Mark Mendelsohn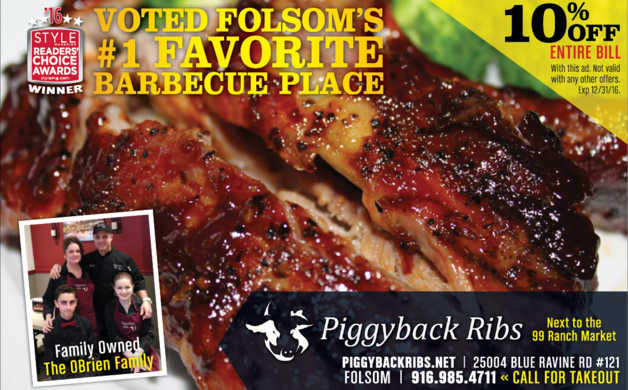 Piggyback Ribs is a high quality, cook to order, casual dining restaurant. We have gone to great lengths to procure the finest meats, cheeses, and vegetables that we use in our recipes.
Here at Piggyback's we have dedicated ourselves to providing a clean, comfortable atmosphere for our guests.
Our main focus is baby back, spare, and beef ribs. Our oven roasting/ charbroiling process allows us to deliver a rib that is tender yet still holds to the bone. Our side dishes are all made of the finest (Tillamook) cheeses, and freshest vegetables available. Nothing here is frozen. Our recipes are time tested and designed to bring out the full flavor of the meats and sides we prepare. Our ribs are basted in a light ginger based sauce to enhance, not hide, the natural pork and beef flavors.
Piggyback Ribs is a local family owned business. Dave and Trish O'Brien are proud to have called Folsom their home for over 20 years. During this time, they have owned, operated, and worked in locally run businesses. Through raising their two children in this community, they have been involved in public schools, organized sports, scouting, local theaters, and many City events.
Piggyback Ribs is the culmination of over 15 years of planning, preparation, and the passion Dave has for fine meats. We hope to share with our customers what we feel will be the best indoor grilled experience you will find in this area. The ultimate goal… excellent ribs and sides you can count on! Piggyback Ribs - Folsom, CA
Dining
,
Today
barbecue
barbecue ribs
barbecue sauce
barbecue chiken
salad
barbecue take out