Hawkins School Of Performing Arts

06/30/2016 03:37PM ● Published by Mark Mendelsohn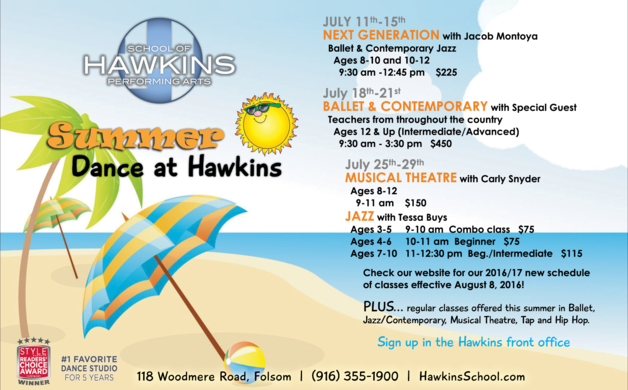 Gallery: Hawkins School Of Performing Arts [1 Image] Click any image to expand.
Deirdre Hawkins
, the founder and artistic director of Hawkins School, holds am MA in Education, with a specialization in dance, from Stanford University.  Her early training began with William and Harold Christensen and the San Francisco Ballet School.  Deirdre studied modern dance under Frank Shawl and Victor Anderson and was a company member of the Shawl Anderson Modern Dance Center in Berkeley. As a graduate student at Stanford University, Ms. Hawkins was a teaching assistant in ballet and modern dance. She also co-founded "Children's Dance at Stanford," a program for children of students and alumni, and established the "Friends of Dance at Stanford," a fundraising organization.   Owner and director of the Hawkins School of Performing Arts for the past 26 years, Ms. Hawkins has won numerous regional and national awards for her choreography.  She was recognized in 2003 by the City of Folsom for her "Outstanding contribution to the performing arts in folsom," her third such commendation by the city council.   Deirdre has had the honor of working with Maestro Michael Neumann and the Folsom Symphony in productions of 
Peter and the Wolf
 and 
The Nutcracker
 as well as with the Camilla Symphony's production of Stravinsky's 
The Firebird
.  Ms. Hawkins is the proud mother of Luke, a dancer/singer/actor currently living in New York City.


LUKE HAWKINS
 BEGAN HIS DANCE TRAINING AT THE HAWKINS SCHOOL OF PERFORMING ARTS AT THE AGE OF SEVEN.  LUKE LANDED HIS FIRST PROFESSIONAL JOB WHEN HE PLAYED YOUNG DON LOCKWOOD IN CALIFORNIA MUSICAL THEATRE'S PRODUCTION OF SINGIN' IN THE RAIN.  WITH THE MENTORING OF TAP MASTER JERRY BURKE, LUKE WON THREE NATIONAL DANCE COMPETITION TITLES. AFTER ATTENDING THE BOSTON CONSERVATORY, LUKE TAPPED HIS WAY INTO ROLES IN XANADU ON BROADWAY, CIRQUE DU SOLEIL'S BANANA SHPEEL, AND NEW YORK CITY CENTER ENCORE'S PRODUCTIONS OF NO NO NANETTE, GENTLEMEN PREFER BLONDES AND ON YOUR TOES.  REGIONAL THEATRE:  OKLAHOMA! WILL PARKER, (MUSICAL THEATRE WEST); FOOTLOOSE, REN, (THE PALACE THEATRE NH); BIG RIVER, HUCK; GYPSY, TULSA (BARNSTORMERS THEATRE NH); JOHNNY GUITAR, TURKEY (SPEAKEASY STAGE CO., BOSTON); A GRAND NIGHT FOR SINGING, JASON (GLOUCESTER STAGE COMPANY); OVER THE TAVERN, RUDI PAZINSKI (SACRAMENTO THEATRE COMPANY); IRVING BERLIN'S WHITE CHRISTMAS; SACRAMENTO MUSIC CIRCUS, VARIOUS ROLES IN 15 DIFFERENT SHOWS.  TELEVISION CREDITS: GOSSIP GIRL, ONE LIFE TO LIVE, AMERICA'S GOT TALENT, THE JERRY LEWIS TELETHON, THE COLBERT REPORT.  WORLD TOUR:  WEST SIDE STORY (ACTION).  EUROPEAN TOUR: MAGIC OF THE DANCE.  CHINA TOUR WITH THE MANHATTAN SYMPHONY. LUKE PERFORMED IN AMMAN JORDAN AS ONE OF THE ORIGINAL MEMBERS OF NOAH RACEY'S NEW YORK SONG AND DANCE COMPANYHE IS AUXILIARY ARTISTIC DIRECTOR OF HAWKINS TAP COMPANY IN FOLSOM CA., MR. NEW YORK 2012; A
CAPEZIO ATHLETE
 AND A MEMBER OF SAG/AFTRA/AEA/AGVA. 
WWW.LUKEHAWKINS.COM
Education
,
Community
School
Dance School
Dance
Performing Arts